iOS 10 has brought a major revamp of the Messages app which included both functional and entertaining features. iOS 11 has taken the same path, making the app even more feature-rich and intuitive. Today, we're going to talk about the best new Messages features in iOS 11 you can enjoy on your iPhone.
It seems Apple's goal is to make the Messages app as versatile as possible which makes complete sense considering it's one of the most heavily used iOS stock apps.
7 New Messages features in iOS 11 for your iPhone
The latest iOS update brings a smaller set of features for the Messages app, but they're undeniably useful, and some of them even fun.
New iMessage screen effects
iOS 11 doesn't bring any new bubble effects but it does include two new screen effects.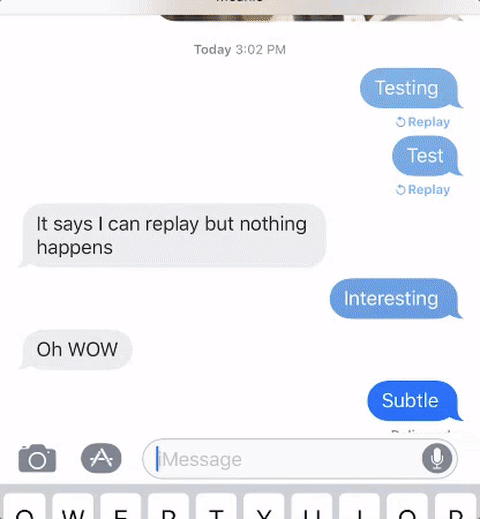 "Spotlight" lets you emphasize any of your replies and "Echo" replicates your message into numerous message bubbles across the screen.
A friendlier iMessage app drawer
The app drawer in the Messages app gives us access to iMessage apps as a simple way to make it even more functional. It became available in iOS 10 but viewing previously downloaded apps and visiting the App Store was still a bit rough around the edges.
iOS 11 revamps the app drawer and once you tap on the "A" icon an oversized shortcut to the iMessage App Store is shown right above recently used iMessage apps. Also, you can just slide over the app drawer toolbar to expand it and view the name of the apps along with their icons.
Messages gets Apple Pay integration
Starting with iOS 11 we're going to be able to make online transactions directly within the Messages app. In other words, you'll be able to receive and send Apple Pay Cash from and to your contacts using an iMessage app.
The funds you receive through this method are kept onto a Cash card in your Wallet app and you can use them for any location or service that supports Apple Pay, but also transfer them to your bank account.
New Business Chat
With the launch of iOS 11, Apple will introduce a brand new platform designed to connect businesses with existing and potential clients. Called Business Chat, it will work as an iMessage extension through which businesses will be able to privately interact with customers.
However, Business Chat is not just a means of communication as it's designed to also support various services, including customer supports, transactions, and shipment tracking. Furthermore, Apple plans to integrate this new feature in other sections of iOS such as Maps, Search and Siri among others.
iCloud syncing for Messages
There was sync support in Messages even before iOS 11, but now it's finally complete. This means that when you delete a message on your iPhone, it will also be deleted from your other iOS devices as well as your Mac. Furthermore, all your data will be backed up in the cloud and only newer messages will remain stored on your devices – a truly efficient way to leverage cloud storage to free up the local one.
A faster way to mute message threads
The old "Hide Alerts" feature for conversation threads has been renamed to "Do Not Disturb" in iOS 11.
It's still accessible the same way, via the information icon. However, Apple decided that a quicker access method would also come in handy so they implemented a new shortcut to the Messages homepage swipe menu for the "Hide Alert" feature. You can access it by swiping left on any message.
The second method doesn't just disable notifications of the selected conversation thread, it also ensures "Read" receipts are not triggered to give us privacy when we need it.
Share links via 3D Touch
This is one use for 3D Touch that certainly makes sense.  You'll need to simply 3D Touch any link and slide your finger upwards on the screen to display the menu – a new "Share" option has been added that will take you to the share sheet.
There are our favorite new Messages features in iOS 11 so far. What features would you like to see added to the Messages app in future updates?
Share this post if you liked it and follow us on Facebook, Twitter and Google+ to stay up to date with the latest apps, games, guides and everything Android, iOS, and Windows Phone.